Adoration of the Magi, pack of 15 Christmas cards
Adoration of the Magi, pack of 15 Christmas cards
Product Description
Item No. 005716
Pack of fifteen 5 X 7 Christmas cards and 15 envelopes.
Adoration of the Magi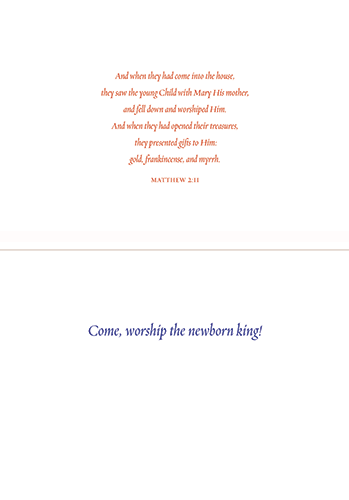 Interior panels and greeting
Inside greeting, top panel:
And when they were come into the house, they saw the young child with Mary his mother,
and fell down, and worshiped him: and when they had opened their treasures,
they presented unto him gifts; gold, and frankincense, and myrrh. —Matthew 2:11
Inside greeting, bottom panel:
Come, worship the newborn King!
Also available as an individual card, see Item No. 005716-1
Available as part of a mixed pack, see Item No. 009010
Artist / Iconographer: Jan Isham
Format: 15 cards and envelopes in a re-sealable poly bag
Dimensions: 5 X 7 inches
Publisher: Ancient Faith Publishing
AFP SKU: 005716
Retail Price: $15.95
Customers also viewed