Meet the Author - Fr. Andrew Stephen Damick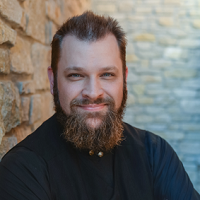 The Very Rev. Archpriest Andrew Stephen Damick is pastor of St. Paul Orthodox Church of Emmaus, Pennsylvania, and author of multiple books from Ancient Faith Publishing. He is host of the Orthodoxy and Heterodoxy and Roads from Emmaus podcasts on Ancient Faith Radio, as well as editor-in-chief and author (respectively) of blogs of the same name, and co-host of The Areopagus podcast. Fr. Andrew is a frequent speaker at lectures and retreats both in parishes and in other settings. He resides in Emmaus with his wife Kh. Nicole and their children.
1. Every writer starts somewhere. When was the first time you knew you'd write a book?
I actually started a couple of books when I was a teenager. Both were sword-and-sorcery fantasy novels. As you may imagine, I was pretty obsessed with J. R. R. Tolkien at the time (still am, really). One was about a teenage boy who loses everything and has to go on a big quest. I never really figured out what the quest was about, but I do recall making big Middle-earth-esque maps (complete with trees and mountains), including the boy's homeland, which I named after my family's real Lithuanian name, "Domeika." The only scene from the novel I remember was the boy journeying with some dwarves in a forest, who knew enough to get under the cover of trees when some particular species of birds flew over. The poor kid got the seagull treatment, I'm afraid. The other only ever got a few pages in, but started in some weird dark underground place where there was a vast civilization that people on the surface knew nothing about.
If you'd told teenage me that I was going to become a priest and write books about Christianity, I would probably have given you a blank stare and gone immediately back to making up my own fantasy languages, because that's what teenage Middle-earth geeks just do.
2. You're active on social media and have been for years. Do you find this influences how or why you write your books?
There's a part of me that wishes I could say that I'm not influenced by social media, and that's the part that sees social media as a "lesser" kind of literary action, but honestly, it's been useful for me. With social media, we see very easily how people can construe a simple statement in multiple ways, how they often react only to the surface of a text or argument, and also how they need some way inside what can be a complex question. All that has influenced how and why I write. There is an enormous spiritual hunger out there, and we can see that writ large on sites like Facebook, which now has 2 billion people on it. And a lot of that hunger could be addressed if only Christians would learn to communicate better. St. John Chrysostom wrote about how a sermon has to use "force of eloquence" in order to be effective. What is that but knowing how to communicate best in our own time and place? Social media helps us to know how to communicate. I don't mean that we have to aim at "going viral," because, quite frankly, nothing I ever write or say will compete with a funny cat video that gets 7 million views on Facebook. But we certainly can reframe eternal questions and eternal answers in a way that actually speaks to people alive right now.
3. If you were stranded on a desert island, what three books would be essential to your sanity?
Of course I'm going to say the Bible, but it's not just because I think I should say the Bible. I've been reading it my whole life, but in some ways I feel like I'm really just discovering how amazing it really is. There's just so much there.
And as you might imagine, I'm also going to say The Lord of the Rings, not just because I've always been a JRRT fanboy but because going back to that book feels like taking a walk home. As the son of a Navy-family-turned-missionary-family, I've lived in 23 homes over my almost 42 years, so I don't really have a home. Middle-earth became my home, so I'll need to go back if I'm going to be on that island.
And I think I'll take my big Riverside Shakespeare, too, because that's another set of friends and places I've grown to love over the years. Ben Jonson said of William Shakespeare that he had "little Latin and less Greek," and since I've got little Greek and less Latin, I think I'll be okay so long as I can romp with Benedick and Beatrice, watch in shock as Prospero breaks his staff, and mope about with the Lord Hamlet while he figures out that everyone dies.
4. Many people view writing as a spiritual practice. What are your thoughts on that?
I believe that it is, though I probably would never be described as a "spiritual writer." But of course, spiritual has gotten relegated in the popular imagination to a mystical corner where you've got gurus and sages and such, not teachers and preachers (which is where I mostly fall). But anything that brings us the Spirit of God is spiritual. I have often said that most of my writing these days is born of frustration, usually a frustration that a book I want to exist doesn't already. So in my vanity, I have to write it myself, I suppose. But there is also something about writing that is for me a working-out of the questions I have. I embark on a book project because I want to learn something and to change myself with God's grace. So, in that sense, writing is a spiritual practice for me.
5. What are you working on now?
I have several ideas in the works. What's at the front of my mind these days is a book on conversion -- and I don't mean changing religions or joining a religion, but rather conversion to Christ in the fundamental sense. How do you do it? What does it look like? How do you know it's working? It's possible that that might actually become a collaborative work.
I'm also doing long-term research on a book giving an Orthodox Christian perspective on the Latter-day Saints (the Mormons). There doesn't seem to be a full book like that out there, and even just in Christian publishing in general, most works on the LDS from non-LDS are mainly in apologetics. While I do think some Orthodox critique of Mormon theology is something worth publishing, I also want as much as I can to try to appreciate their spiritual culture and find touchstones where possible. This will not come easily and will likely take a long time.
I also have an idea about exploring the life of my great-great-grandfather, who was a Baptist preacher in New England around the turn of the 19th / 20th centuries. He was a fascinating man who served at twelve different churches in the region, and it turns out we have some curious things in common. That will also likely be a long-term research project.
But, of course, there is also all the podcasting and blogging and such. Always something new! Can't sit still.​