Meet the Author - Fr Barnabas Powell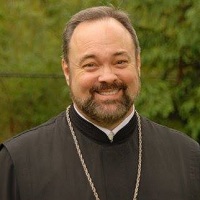 1. You were recently among the inaugural recipients of the Ancient Faith Crystal Award for notable contributions on all three of our platforms - podcasting, blogging, and publishing. That takes a lot of work! What motivates you to keep going?
Recently, I actually considered dialing a lot of the media work back. When I told my family, my daughter, Alexandra, began to cry. She told me, "Daddy, you can't stop." When I asked her why, she told me it was who I was. Didn't realize we were raising another "preacher!" Seriously, I am driven by an inner vision of joy. The Faith has been such a transformative reality in my life, and I know there are so many religious seekers in this society who are truly starving for this spiritual food, I can't ignore that. I really pray for that "right answer before the awesome judgement seat of Christ." Don't know how I would explain having all this spiritual food and not sharing it with a hungry people.
2. Being "Orthodox on Purpose" has been a major theme of your ministry. What would you say is the opposite of that - a person who's Orthodox "by accident"?
Yeah, I guess I would. To be sure, it is a tremendous blessing from God to have a heritage in the Faith, but like all advantages, it becomes the exact opposite if it's not appreciated and practiced. A wise preacher once told me, "God ain't got no grandchildren." It really is true that we each have to keep on actively embracing the faith for it to accomplish the eternal work of theosis in our lives. And that's never going to happen with your faith on "automatic pilot." It's an active and even daily Faith that becomes more than some cultural decoration, but the very center of our lives. For me, I've found the daily devotionals and the daily prayer rule of the Faith to be a central help to me to stay awake to the purposeful nature of a living faith.
3. You have deep roots in the American South and its faith traditions. How did you decide what to keep and what to let go when you became Orthodox?
Well, to be honest, I had to enter the Faith without any of this. I had to be willing to leave it all behind so that I could "purchase" the "treasure hidden in the field." What was wonderful to discover was when I was willing to do that, the Holy Spirit preserved what was eternal in my past and is giving those aspects of my past back to me filled up and transfigured into spiritually helpful tools to further my maturity. It was only when I was willing to let go that I was able to keep aspects of my heritage purified from the idols those things can often become when we love them more than the Gospel. And even then, I still preach like a Pentecostal!
4. We love to ask our authors "What's the best (or worst!) writing advice you've ever received?" Pick something to share - best or worst!
I was really bitter at my Pentecostal past when I was converting. A very wise and loving father told me that I was never going to ever be truly Orthodox until I was able to be grateful for what those who raised me gave me. But a real tie for the best advice I ever got was from a man who led me to Orthodoxy. He told me I had to marry a lifelong Orthodox girl when I got married. When I asked him why, he told me she would know in her bones what I just knew with my head; and I would be able to explain to her why she did what she did. Then he said words I'll never forget: "These two groups won't survive without each other!"
5. What are you working on now?
So much has happened in the last few years. The media stuff, the book, and the Journey to Fullness video series. We have over 150 parishes around the country using that series to reach others. But I am really excited about what's coming. Our parish has grown to the point we have to build a church building. I am working on the outline for a new book about the daily practice of the spiritual disciplines and all the spiritual illnesses they cure. And there's a new video series on the drawing board. I want to do a video series about the Divine Liturgy that focuses on the spiritual lessons the Liturgy teaches us every Sunday. I would go so far as to say that the liturgical life of the Church is absolutely the key to our spiritual healing!