Meet the Author - Elissa Bjeletich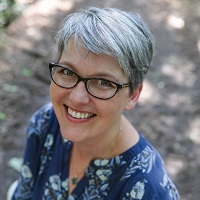 Elissa Bjeletich is a wife and mother, raising five daughters and working in the Sunday school at Transfiguration Greek Orthodox Church in Austin, Texas. She converted to Orthodoxy in 1999 and now writes and speaks primarily on parenting and Christian education. Elissa's Ancient Faith podcast, Raising Saints: Educating Our Youth in the Orthodox Faith, Both at Home and in the Parish, encourages and equips us for the important conversations through which we pass on the faith to our young people. Elissa's other books include: In God's Hands: A mother's journey through her infant's critical illness (Elissa's testimony to Christ's faithfulness in the midst of trials and uncertainty, offering comfort and inspiration for those who struggle) and Welcoming the Christ Child: Family Readings for the Nativity Lent (Sebastian Press; a journey through the Old Testament, with 40 stories from Scripture to read aloud and questions to inspire conversation in the family).
1. A reader of Blueprints for the Little Church might wonder, "Does she do all these things with her own family?" Tell us - do you?
Absolutely not! I don't think any of us can do everything. In Blueprints, we collected ideas from many different families. Some examples do come from my own home, and some are from Caleb's, and still others are from our friends and acquaintances throughout the Church. One truth we hoped to convey in the book was that each family must work out a unique way to incorporate the beautiful rhythms of the Church into their particular home. We do pray and fast and give alms in our way, and that may look different from one week to the next! We try to remind ourselves that life in our Little Church is an ongoing struggle, and our practices have evolved as our children have gotten older and our circumstances have shifted. After all, the Little Church is an organic structure, always changing and growing!
2. How has being a parent changed the way you participate in your church?
I converted just before the birth of my first daughter, so I have been a parent throughout my life in the Church. The timing was no accident: just knowing that it was my responsibility to hand down faith to my children motivated me to be baptized before they were born. Over the years, different parenting challenges, from one daughter's cleft lip and palate struggles, to my son's sudden death, to my youngest daughter's liver failure and successful transplant, have drawn me in ever closer to the Church. Each profound grief and struggle in my parenting life has created a situation in which I needed the Church and its teachings and services more. I could not have gotten through such things without the presence of God and the healing prayers of the Church.
Of course, even in my everyday experiences -- when nothing so dramatic is on the line -- parenting my children gives me plenty of opportunities to grow in the faith, as I pray for my children and enlist the help of the Saints to shape them and to help me control my own impulses. Like all children, my own rambunctious and opinionated girls give me occasion for developing patience, forbearance, self-control and mercy! And of course, their questions about the faith push me to find more answers, and more ways to express those answers.
3. How do you find that mothering and writing connect with each other?
I have always loved to write -- as a Comparative Literature student at Berkeley, I really couldn't get enough of writing 30-page papers. I love the craft of writing, but whenever someone asked why I didn't write outside of the classroom, I would tell them that I didn't have anything to say. Surely I had plenty of opinions on the world, political and otherwise, but I didn't feel compelled to write them out. Only after I left school and became a mother, did I finally find my voice and my subject matter. Motherhood brought God into focus for me and challenged me and transformed me into a writer.
4. What are you working on now?
Sebastian Press published my latest book, "Welcoming the Christ Child", which is an illustrated collection of 40 Old Testament Bible Stories, tracing the prophecies and preparations for the coming of Christ. Now I'm working on something like a Part Two -- a collection of New Testament Bible Stories for parents to read aloud with their children. The stories are followed by a few discussion questions, to help keep the conversation going and to allow parents to feel more comfortable teaching the Scriptures to their children. The illustrator has been doing beautiful work, creating images that recall icons, but have softer edges and lively, loving eyes. I'm really excited about this one!