Meet the Author - Angela Doll Carlson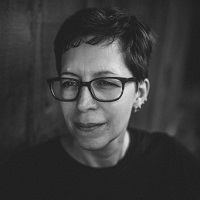 Angela Doll Carlson is a poet, fiction writer and essayist whose work has appeared in publications such as St. Katherine Review, Rock & Sling Journal, Ruminate Magazine, Ink & Letters, Whale Road Review, Elephant Journal, Relief Journal, and Art House America. Her memoir, Nearly Orthodox: On Being a Modern Woman in an Ancient Tradition, was published in 2014. Angela currently lives in Chicago, IL with her husband, David, and her four outrageously spirited yet remarkably likable children.
1. Garden in the East: The Spiritual Life of the Body could be considered a new genre for Orthodox literature. How do you feel it differs from other Orthodox books you've read?
I never was keen to write any kind of "self help" book, mainly because I don't think I've got the expertise or life experience to merit such an undertaking. How on earth could I tell someone else how to love the body we've been given when I still struggle daily with it myself? I guess what I was aiming for with Garden in the East was the feeling I got when I read Annie Dillard's book, "The Writing Life." It's always been one of my go-to writing craft books. I revisit it often because it combines a sense of purpose with the feel of memoir. I wanted my book to sit with the reader as a wise and loving companion in the struggle. I've read a number of Orthodox books that offer me wisdom and direction in the daily working out of my faith, but it's been more difficult finding books that also feel like traveling companions, as Annie Dillard's book feels to me in my writing.
2. You live in one of the biggest, busiest cities in the United States. How did that bustling context figure into your writing as you created a book about spiritual gardening and peace?
Well, not to mention that I'm also really awful at gardening. I mean, I try, and I am getting better as time goes on – at least I like to think so. I think that's why I chose the garden as metaphor, both in the writing of the book and in the approach to caring for the body. There's something wildly redemptive for me when I clear away the weeds and start to work with the soil again. Living in the city becomes the very best test of this metaphor, then. For someone who is terrible at gardening to even try to create something beautiful in a crowded, urban space like this shows a real willingness to reach for beauty in any circumstance. I think, too, when we have even small successes on that front, it makes it more difficult to abandon the hope for beauty, and in a place and a time when it's probably easier to give up, we need all the hope we can muster.
3. What's the worst piece of writing advice you've ever received? The best?
The worst piece of writing advice I've been given is the old "writers write" adage. Yes, it's true on some level, but in essence that adage tells me that when I am not able to write, I'm somehow diminished in my vocation as a writer, and that's not true. The counterpoint is the best advice I've been given. Writers read. I think too often we get the message that when we're "blocked" there's nothing to be done about it. We just have to wait it out or lament about it, but I've come to see that when I feel like I've run out of words, it's more a function that I'm not feeding the muse, so to speak. So I step up the reading and re-fuel in that way. Writers should read – and read widely.
4. How would you like to see the Orthodox literary world develop in the next 10 years?
I don't identify myself as an "Orthodox writer" as much as I'd say I'm an Orthodox Christian who happens to also be a writer. And though most of my published nonfiction is in the Orthodox "market," I always write so that anyone might be enticed to pick it up and read it, no matter what their religious preference.
As for how I'd like to see the Orthodox literary world develop – I would love to see more Orthodox texts make their way into the mainstream. It feels too often that we put work into a box and never allow it to leave that safe space that is filled with "like-minded" people. I think that if more folks were willing to read work outside their comfort zone, we'd see a stronger and more informed population. This is not to say that Orthodox writers need to change the way they approach the craft or the faith, as much as I think we should always be expanding our idea of who our writing might affect. What would it look like to write work, as an Orthodox Christian, that reaches far beyond the lines of the niche markets?
5. What are you working on now?
Right now, I'm working on two very different writing projects. The first, for Ancient Faith, is a book of short, daily reflections on the first volume of The Philokalia. The working title so far is "The Wilderness Journal: 365 Days of Prayer and Path-making" and it is a sort of companion book to my podcast. Theme being, how do we live and work in the world as it is?
I chose The Philokalia as the informing text for this book though because I've been picking it up and putting it down for a very long time. So I set myself a challenge to finish it in a year, one page at a time. And with each page I made notes for myself, almost as though I was translating what the Fathers were saying into what I was living at that moment. The result has been this new book. I like to think of it as a way for regular, non-monastic types to approach this valuable, beautiful, yet sometimes intimidating text.
The other project is a very depressing novel about elderly twin sisters who freeze to death outside their rural Minnesota farm house. It is a first-person account, from the viewpoint of the older sister (by two minutes) and tells the story of their lives together. I know it sounds depressing, but I hope it is also beautifully told.