Meet the Author - Jane G. Meyer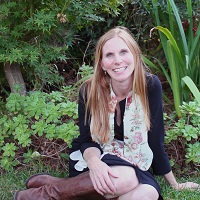 Jane G. Meyer is a children's book author and editor who lives in Santa Barbara, California, with her husband and children. She loves the outdoors, learning new languages, fiddling in her garden, and making things with her hands.
1. You have written so many picture books! What is your favorite thing about creating stories for this genre?
Children are honest, and open, and tell some of the best jokes! Their laughs are not forced, and their struggles are real and present, and if you tell a child a story, they listen with their whole selves. There's just so much to love about a child. So I like kids, but I love writing picture books because you get to take a big, awesome idea and distill it to its very essence. Writing for me is all about learning things, not about teaching. I always learn more about myself when I write, so I write to learn who I am, and who I can become (see The Hidden Garden!). The other thing that I truly love about picture books is that in the pursuit of the perfect text, there is a type of poetry that develops. Every word matters. The sounds of the words matter. And finding or developing music in a text brings me so much delight! I just love how words sound together—I love languages, all languages, learning foreign languages—so fiddling with words is like play for me...
2. You are a world traveler, and your most recent Ancient Faith picture book, When God Made You, includes children from around the world. Were any of those portraits inspired by places you've been to and loved?
Ha! Not quite a world traveler, but I do enjoy seeing other places, hearing other people speak, and learning from other cultures. The beginnings of When God Made You had less to do with place, and more to do with people. In an attempt to think about my own children more deeply, I wrote some paragraphs about my two oldest children, who then morphed into Brigid and Hikaru in the book. Liking the exercise, I started writing about other loved ones—neighbors, god children, friends… So all of the children found in the book started with an actual person in my life as a way to know them better—or at least to think of them from a different vantage point.
But speaking of traveling. This last summer, our family traveled to Finland. We saved our pennies for a long, long while, researched where to go, and my youngest and I studied Finnish for an entire year. I grew up with Finnish exchange students living in our home, so I'd always been fascinated by that country. We got to attend liturgy in two amazing churches in Finland, AND we traveled to the New Valaam Monastery and stayed there for two days—it was an early home of Saint Herman of Alaska! One of my favorite pages in When God Made You is of Elina. I made her Finnish. :)
3. What's it like working with an illustrator? How does your story change from the way you saw it in your mind's eye to the way it goes to press?
When creating a picture book, there are two major creative minds working on the same story. And oftentimes the illustrator will see something in the text that the author didn't realize was there. As I said earlier, writing for me is primarily about learning about myself, so when I finish a story, then it's done. I set it aside, and think of it as complete, even if it is never published, even if it is never illustrated. So in that sense, I have very few expectations when it comes to the final art work.
I've never had an illustrator take a story I've written and alter it in a negative way, so I guess I just love to see what another creative mind finds in the words. With a well-illustrated picture book, a book that ends up being read again and again, you'll find that the illustrator built upon the text, and elevated the story beyond just the words. I love that about collaborating with artists, because the end product becomes a real place of discovery for the reader.
4. What is the most unhelpful piece of picture-book advice you've ever heard?
I am a natural advice-giver, which also translates into the awful notion of lecturing kids. When my oldest kids were little, I handed out some of the best lectures known to man! Now--my kids never heard them, 'cause they ended up in some sort of trance after a minute or two, but, wow, those lectures were great… I guess one of the worst things I've ever heard about writing for kids is that books for children should contain some sort of a lesson or moral. I wholeheartedly disagree. That style of storytelling sends kids into a trance, and inspiration toward change never happens. The moral just washes over their heads and ends up out in the universe swirling in circles. Good storytelling, just like good parenting, follows a story that unfolds for both the writer and the reader. It's the experience, the journey of the story that matters, and when you do that well, inspiration might very well happen as a side dish. When it's the child who decides to be inspired—when a child forms his own opinion—then that opinion or belief has strength and power, and can ultimately be life changing...
5. What are you working on now?
Currently I am juggling several projects. I've just re-released The Life of Saint Brigid in paperback. It's one of the first children's picture books that I had published. You can find it on Amazon, and feel free to spread the news that it's back in print. I am writing a middle-grade novel about one of my best friends growing up who struggled with Cystic Fibrosis. She passed away in her twenties. Knowing her has been one of the great joys of my life. I am also writing a devotional for middle-grade kids. And lastly, I'm trying to sell a picture book about a Russian hedgehog who becomes a reluctant world traveler. Well, and I homeschool my eleven-year-old, and teach Sunday school, and spend an awful lot of time de-seeding pomegranates since it's pomegranate season! My hands are yellow…
Before I go, I'd like to humbly ask for your prayers.