Meet the Author - Melissa Naasko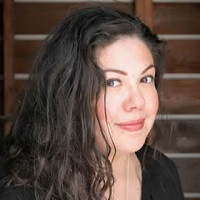 Melissa Naasko, a wife and mother of eleven children, lives on a hobby farm in the rugged wilderness of the Upper Peninsula of Michigan. Melissa first learned to cook with her grandmothers, which provided the necessary experience for her to work in catering in a private reception hall. As her family grew, she started teaching classes in cooking, baking, and menu planning, as well as doing contract recipe development from home. Melissa enjoys writing and speaking to mothers' groups and homeschooling conferences on topics of faith, food, and family.
1. Motherhood is one kind of creativity. How does being the mother of a large family feed the rest of your creative life?
I love being a mother because I love children and the thing that I love most about them is how they see the world as always fresh and new and exciting. Children can spend hours and hours in creative play, dictating long and intricate stories and pulling us into them. Being a writer is all about holding onto that same sense of story telling, that same sense of newness, that same sense of cooperative play that pulls people into the story and makes them characters in it. When I write, even if it is about cooking and food and not necessarily a story, I want people to have a sense that I am pulling them in and speaking directly to them. Watching my children play and playing with them makes every encounter one that teaches me how to encounter other people. As they get older, the stories change. There are fewer fairies and fewer superheroes, but the world is still fresh and exciting, and continuing the conversations keeps me optimistic and not burdened by the heavy complexities of the world.
2. Your book, Fasting as a Family, includes recipes that you created from scratch. How do you go about "inventing" a recipe?
The most important thing to know is that it is not as fun as people think! It all starts with an idea. Sometimes I start with a goal in mind, such as a food category or utilizing a certain ingredient. Sometimes I start with what is known as a flavor profile, that is a set of flavors and states, and finding a way to use it. The next step is to create a chart and compare different published recipes for a dish. This chart shows what ingredients are listed and in what amounts. Then I make each of them and consider the results. Having a basic background in food chemistry means I can consider what ingredients or percentages created what effects and if this is what I want. Then I draft a recipe, keeping in mind the chemistry and the high points of each of the other recipes. Often, at this point, I will try some different amounts of a critical ingredient and see what happens. Then we taste and do it again, and again, and again. My Lenten Chocolate cake is a prime example. I wanted to resolve the chemical taste of some common recipes as well as the dryness and the crumble. I made six different existing recipes and judged them before I developed my own. For each ingredient, I tried different amounts until I found what worked and pushed amounts until the recipe broke and then dialed it back. It took a total of twelve sets of variations, but because each set includes multiple versions, I made literally 34 cakes. I tackled anyone and everyone who could taste them. When it was all said and done, it was eighteen months before my children were willing to have another piece of chocolate cake!
3. What's the best piece of writing advice you've ever received?
"If you don't see the book you want on the shelves, write it." -Beverly Cleary
I had been a freelance writer for a while and I wanted to dive into a book, which is what most writers want to do. I think a lot of people don't realize there are a lot of boring jobs that involve writing and we often do those so that we can be paid while we do the ones that we love, which don't always pay. I had some ideas and I was trying to find a voice for them, but they really weren't working. So I decided to follow the advice of a nun who had been telling me that people needed a book on fasting and that I needed to write it. When I was a young wife with small children, I had wanted this book, so what she said made sense. There was a book I wanted to read, and it wasn't out there. I needed to write it. I started the table of contents as an outline for the book and thought about what people needed. It felt like the book, the planning and organizing, practically wrote itself. That was the right book. The whole process of getting it published was shockingly smooth and easy, probably because it was book that filled a need.
4. If you could choose one person from history to write a book with, who would it be and why?
Honestly, I would want to write a book with Claudia, the wife of Pontius Pilate. She stood at a turning point of human and cosmological history, and while she didn't understand it completely, something moved her. I think about her often and how she wanted to support her husband and encourage him and lead him to Truth, which is what wives want to do. She watched her husband become a figure who stands out starkly and hideously in history. Every time we sing the Creed at Liturgy, I think about her and wonder what happened to her. More than anything, I wish I could hold her and tell her that those dark days would be short because the Resurrection would come. All things were made new.
5. What's your next writing project?
I am dipping my toe in fiction! The difficulty with cook books is that the art direction is expensive, and I would love to do a feasting book, but I don't think that there is quite the need for it right now. I love food and writing and thinking about food, and funnily enough, my Netflix cue always ends up with food themes in it, but I also love mysteries. I decided to write a mystery novel in the same thread as Father Brown, but Orthodox, and tie some local elements into it. My mother is waiting for me to finish it, which will be this summer. So far, I am about a third of the way through it, and the people I have had reading it are enjoying it. We will see how it turns out.